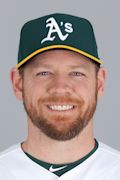 Brandon Moss
Age: 40
OF/LF/RF/DH/1B/2B
| | |
| --- | --- |
| AB | 3133 |
| AVG | .237 |
| OBP | .314 |
| SLG | .452 |
| HR | 160 |
Full name

Brandon Douglas Moss

Born

09/16/1983 in Monroe, GA

Profile

Ht.: 6'1" / Wt.: 210 / Bats: L / Throws: R

School

Loganville

Debut

08/06/2007

Drafted in the 8th round (238th overall) by the Boston Red Sox in 2002.

View Draft Report

RHP/3B Brandon Moss is a Georgia recruit who will be difficult to buy away from college. He'll be a two-way player for the Bulldogs or a pitcher as a pro. He doesn't have the smoothest delivery, but he throws 88-93 mph with late movement on his fastball, has a plus breaking ball and goes right after hitters.
Organization Prospect Rankings
At the all-star break last year, Moss was hitting .303 with 31 doubles and 13 homers in Triple-A, numbers that usually would merit big league playing time in the second half. But with the Red Sox, he got just 25 at bats. That's the dilemma facing Moss, who has nothing left to prove at Pawtucket but is blocked in Boston. Moss broke out as a prospect by winning the MVP award and batting title (.339) in the South Atlantic League in 2004, then struggled to find offensive consistency the next two years in Double-A. His swing got long when he tried to take advantage of the short right-field porch in Portland, but he made adjustments in the second half of 2006, which he capped by winning Eastern League playoff MVP honors. In 2007, Moss demonstrated more opposite-field power than ever before and led his league in doubles for the second straight season. He has strong hands, a quick bat, leverage in his swing and a greater understanding that he should just let his power come naturally. He imparts nice backspin on his drives, and though he'll swing and miss, he does a good job of covering both sides of the plate. Though Moss isn't as streaky as he used to be, he still can get inconsistent with his approach and gives too many at-bats away. He projects as a .270 hitter with 20 homers a year. Despite slightly below-average speed, he's a solid right fielder with a good arm. Moss will be a reserve outfielder this season for the Red Sox, unless they use him as trade bait.

The low Class A South Atlantic League MVP and batting champ in 2004, Moss has spent the last two years in Double-A in search of offensive consistency. He can fall into extended cold periods and began 2006 by hitting .221 with three homers in the first two months. He's also capable of carrying a team when he heats up, and he batted .324 with nine homers over the final three months. He was the Eastern League playoff MVP, batting .361 with five homers in nine games as Portland won the championship. Moss has a quick bat and strong hands, so he can drive the ball from left-center to right field. He led the EL in doubles and the Red Sox think he could hit 20-25 homers in a big league park that plays to his strengths, though Fenway Park doesn't fit that description. He cut down on his strikeouts in his second tour of Double-A and improved defensively in right field, where he has one of the better outfield arms in the system. He's a slightly below-average runner. Despite repeating a level, Moss will play in Triple-A at age 23 and could push for an everyday job in Boston in 2008.

Moss ranked No. 2 on this list a year ago, following a breakout 2004 when he won the batting title and MVP award in the low Class A South Atlantic League before hitting .422 in high Class A. He didn't handle Double-A pitching as well in 2005, however. He still has the same bat speed and nice stroke, and he has more raw power than Portland outfield mate David Murphy. But while Murphy has made adjustments, Moss still needs to refine his approach. Rather than toning down his swing to catch up to good fastballs, he cheats on them. He often swings from his heels, which leads to strikeouts. Adding more patience and strength is the path he needs to take. Moss' bat is his ticket to the majors, as he's a below-average runner and a decent defender with a solid arm in right field. He may not have enough pop to fit the right-field profile, and he continued to struggle in an Arizona Fall League stint. He'd probably be best off if he heads back to Double-A to open the season.

Though Moss hit just .226 in his first two years as a pro, the Red Sox believed he was on the verge of a breakout. He proved them correct by winning the batting title and MVP award in the low Class A South Atlantic League, then batting .422 in high Class A during August. Moss has worked very hard to make himself the best hitter in the system. He has a good swing path and a sound approach, and line drives jump off his bat to all fields. Boston likes his raw power and thinks he'll mature into an annual 25- homer threat. Intense and dedicated, he runs OK, plays a solid right field and has a slightly above-average arm. Some SAL observers questioned Moss' pop. But he did have 49 extrabase hits as a 20-year-old, and he's learning how to work counts to get pitches he can drive. With Trot Nixon under contract through 2006 and Manny Ramirez tied up through 2008, the Red Sox can be patient with Moss. He'll probably open 2005 with Boston's new high Class A Wilmington affiliate.
Minor League Top Prospects
A trade to the Pirates at the deadline provided Moss with the opportunity the Red Sox couldn't give him. When Boston DH David Ortiz went down with a hand injury in June, Moss wasn't available because he was recovering from an emergency appendectomy that knocked him out for a month. Moss batted .222/.288/.424 as Pittsburgh's left fielder and No. 6 hitter after the trade. Moss uses a short, direct lefthanded swing that furnishes him with above-average gap power to both alleys. More home runs could follow, because he gets good backspin on the ball. He hangs in against lefthanders, but he doesn't make enough contact against either side to hit for a high average. The Red Sox played Moss mostly at first base in Pawtucket, but he's an average defender on an outfield corner despite his below-average speed. He also has the arm strength to play right field. IL observers admired his consistent effort and approach to all phases of the game.

Moss won his second straight league doubles title in 2007, finishing with 41 while also topping the IL with 59 extra-base hits. He doesn't have any one extraordinary tool, but he plays with an intensity that won him fans throughout the league. The name of Moss' game is power. He shows power to all fields with a compact, leveraged swing, and he gets tremendous backspin and carry on the ball, hinting at increased home run production in the future. Though he's an aggressive hitter who swings and misses a lot, Moss can drive pitches on either corner. An average defender with a strong arm in right field, Moss can play center in a pinch but his profile is that of a prototypical corner outfielder. He's a below-average runner but not a base-clogger.

The league MVP, Moss had one of the biggest breakthrough seasons in the minors, slashing enough line drives to rank third in the minors with a .353 average. He hit .422 in high Class A after his promotion from the Sally League, where he won the batting title (.339) and ranked fourth in RBIs (101). His bat is his best tool, as Moss loads his hands well, giving him good bat control. "He's got surprising pop in his bat for his size and hits to all fields," Forbes said. "He's a pretty solid all-around player, and he really had a breakout year for them." Moss' arm is a tick above average and plays up because it's accurate. His intensity, physical ability and line-drive swing drew comparisons to Angels outfielder/first baseman Darin Erstad. However, like Erstad, some managers thought Moss could be overrated, and didn't see him as a top prospect in terms of tools. "We've had a lot of discussions about him, and while I think he's a good player, I don't think there's enough power," one manager said. "He's just an ordinary guy for me."
Rated Best Hitter for Average in the Boston Red Sox in 2005