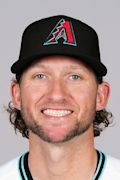 Jake Hager
Reno Aces
Age: 30
#9
2B/RF/SS
Active
| | |
| --- | --- |
| AB | 188 |
| AVG | .245 |
| OBP | .301 |
| SLG | .415 |
| HR | 3 |
Full name

Jake William Hager

Born

03/04/1993 in Henderson, NV

Profile

Ht.: 6'1" / Wt.: 170 / Bats: R / Throws: R

School

Sierra Vista

Debut

05/15/2021

Drafted in the 1st round (32nd overall) by the Tampa Bay Rays in 2011 (signed for $963,000).

View Draft Report

Hager doesn't have one standout tool, but he can do a little bit of everything and always plays hard. He's an average runner but has nice actions at shortstop with an above-average arm. Hager is a good hitter and performed with wood at showcase events last fall. He has some pop, though he profiles as more of a gap hitter with average power. His tools play up because he's the prototypical baseball rat. He has passion for the game and is typically the dirtiest guy on the field, playing with toughness and energy. He's a leader on the field with good makeup, exactly what you want from a shortstop. He could go as high as the second round and if he doesn't sign, he'll head to Arizona State.
Organization Prospect Rankings
In 2014, Hager reached Double-A Montgomery and held his own as a 21-year-old, an impressive feat, even before considering that he was battling nagging injuries all season. He showed all the ingredients of a major league shortstop, with soft hands, range, body control and above-average arm strength. Offensively, Hager lacked strength, but showed that he could recognize pitches and slap the ball into the gaps. Following the 2014 campaign, Hager had a minor surgery to clean out his knee. When he returned, he didn't feel quite right, and he ended up having another surgery in April 2015 that caused him to miss the entire season. Hager rehabbed in Port Charlotte, Fla., throughout the season and had a clean bill of health when the minor league season ended. He looked good in workouts in the fall, but it remains to be seen how his injury, and rest, will impact his game. Left off the 40-man roster, Hager will have to reestablish his value with a healthy 2016 season, which could start at Triple-A Durham with a good spring.

Hager played through nagging injuries at Double-A Montgomery, showing solid all-around skills and few weaknesses. He possesses outstanding instincts and average range, with a knack for moving in the right direction when the ball is hit and making the routine plays. He displays solid footwork and quickness on turning double plays and making relay throws. His hands are soft and he has a solid-average arm. Offensively, Hager held his own at the plate by making consistent contact with his quick hands and above-average hand-eye coordination. He still needs to add strength to improve well below-average power. He could play shortstop in the big leagues but might emerge as a utility infielder. The Rays could have a logjam of shortstops at Triple-A Durham, but Hager should make the jump, regardless, in 2015.

Hager lacks a standout tool, yet he also has few weaknesses. Since joining the organization as the 32nd overall pick in the 2011 draft, he has meshed his skills with an uncanny focus and work ethic and should be ready for Double-A at age 21. Hager is a solid, reliable defensive shortstop who makes all of the routine plays. He has good instincts in the field along with soft hands, and he does an exceptional job on relays and turning double plays. His arm strength is average, but his throws are accurate with enough zip that he should be able to remain at the position at higher levels. Hager found high Class A Florida State League pitching challenging, hitting .228 during the second half, but made adjustments that the Rays think will pay off in future seasons. He is quick to the ball with good hands, which should allow him to move runners as a No. 2 or bottom-of-the-order hitter. His power is limited to occasional pop to his pull side, but that could increase as he gains strength and experience. Hager will not receive the attention of more flashy shortstops, but his skills and approach should allow him to play regularly in the major leagues, perhaps as a second-division starter or utility player. His next stop will be Double-A Montgomery.

Few players in the Rays system are more focused than Hager. A mature player who has an impressive even-keel approach, he doesn't have standout tools but the sum is greater than the individual parts. Drafted 32nd overall in 2011 and signed for $963,000, Hager uses his hands well at the plate. He has excellent pitch recognition and does a good job of waiting on the ball and employing the entire field. He can drive the ball on occasion and could hit a dozen or more homers annually as his body continues to get stronger. With his average speed and keen baserunning instincts, he should reach double digits in steals as well. Hager isn't as gifted defensively as Brandon Martin, who was selected six picks after him, but he has soft hands and solid range and arm strength. He should be able to play shortstop at higher levels, though he'd probably shift to second base if he were on the same team as Martin. That won't happen in 2013, when Hager will be one of the younger players in the Florida State League.

Hager profiles perfectly as a Rays prospect with all-out hustle that enables him to produce at a consistently high level. After Tampa Bay took him with its third first-round pick (No. 32) overall last June, he signed quickly for $963,000 and played 47 pro games. A baseball rat with a nonstop motor, Hager does a little bit of everything even if he doesn't possess any plus tools. He uses his hands very well at the plate, allowing him to wait on pitches and make consistent contact to all fields. He has good power for a middle infielder and could hit upwards of 15 homers annually at higher levels. He's an average runner with good instincts but won't be a big basestealing threat. Hager moves well at shortstop but does not have great range, which could necessitate a shift to second or third base down the road. His hands are soft and sure, and he has good actions and plus arm strength. Having gotten off to a solid start to his pro career, Hager is expected to open his first full pro season in low Class A at age 19.
Minor League Top Prospects
The third of three Rays first-round picks this year, Hager signed quickly for $963,000 and got 47 games of experience under his belt. He may lack prototype range for shortstop, but he's sure-handed and fundamentally sound, and his solid-average arm strength will allow him to play second or third base in the event of a position switch. Even if Hager's defensive home has yet to be determined, few managers questioned his offensive potential. He has a handsy swing and knack for contact, spraying the ball around and looking to hit the ball where it's pitched. He doesn't project as a big power or stolen-base threat, but he could top out at 12-15 homers at his peak and he has solid speed.
Reno Aces activated SS Jake Hager.

Reno Aces transferred SS Jake Hager to the Development List.

SS Jake Hager assigned to Reno Aces.

SS Jake Hager roster status changed by Arizona Diamondbacks.

Arizona Diamondbacks signed free agent SS Jake Hager to a minor league contract.