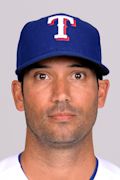 Matt Bush
Age: 37
#77
RHP/P/SS
Active
| | |
| --- | --- |
| IP | 10.1 |
| ERA | 9.58 |
| WHIP | 1.65 |
| BB/9 | 5.23 |
| SO/9 | 8.71 |
Full name

Matthew Brian Bush

Born

02/08/1986 in San Diego, CA

Profile

Ht.: 5'10" / Wt.: 193 / Bats: R / Throws: R

School

Mission Bay

Debut

05/13/2016

Drafted in the 1st round (1st overall) by the San Diego Padres in 2004 (signed for $3,150,000).

View Draft Report

The Padres still had Bush in their mix for the No. 1 overall selection this year as late as early May. It may have been for local PR value, but Bush is a legitimate talent and easily the best player in San Diego. He's been a high-profile prospect throughout his high school career, both as a shortstop and pitcher, and he spent 2004 just polishing his game. At 5-foot-10, his size would be an issue if not for his exceptionally strong arms and legs. His arm is also a special tool. On the mound, his fastball has been clocked consistently at 94 mph and up to 96. His best asset may be his glove. He has outstanding lateral movement, lays out for balls in the hole and is quick at turning the double play. His presence, instincts and makeup also are unquestioned. Not everyone is as sold on his bat or his speed, however. He's more of a contact hitter than a power hitter, but scouts say he should hit better with wood than aluminum. He projects as a .270-.290 hitter. Though he lacks first-step quickness out of the batter's box and is just an average runner, he has good acceleration on the bases.
Organization Prospect Rankings
Bush's legacy once looked like it would be as the biggest bust ever among No. 1 overall picks in the baseball draft, but he has evolved over the past two years while converting from shortstop to pitcher in his third organization. A money-saving choice by the Padres in 2004--though he did get $3.15 million--he got into off-field trouble before he ever played a game and hit just .219/.294/.276 in four seasons. San Diego tried to move him to the mound in 2007, but he injured his elbow after seven games and needed Tommy John surgery. He missed all of 2008 and was sold to the Blue Jays in February 2009, only to get released two months later for violating team guidelines. The Rays signed him in January 2010 and sent him to the Winning Inning Baseball Academy in Clearwater, Fla., the same place where Josh Hamilton cleaned up his life. An oblique strain and a sore arm limited Bush to 15 innings in 2010, and he had surgery on the radial nerve in his upper arm after the season. Tampa Bay added him to the 40-man roster after that season, and he repaid the team with an impressive Double-A showing in 2011. Using a 94-97 mph fastball and a hard, tight curveball, he averaged 13.8 strikeouts per nine innings. He also has a slurvy slider and a changeup that are far from quality offerings and he doesn't need them much in short relief. Bush's biggest need is to improve his control and command so his stuff can overpower more advanced hitters. He also needs to prove he can handle a heavier workload, as the Rays never used him with fewer than two days of rest last year. Though he's short, he gets decent plane on his pitches and works the bottom of the zone by repeating his clean delivery. He has good balance and fields his position well with his above-average athleticism. Bush's makeup no longer appears to be a problem and the expectations of being a No. 1 overall choice are in the distant past. He could help in the big league bullpen at some point in 2012, though he also could start the season back in Montgomery.

Bush finally made the conversion from shortstop to pitcher that long had been predicted, and while he showed promise as a reliever, his momentum was derailed when he had Tommy John surgery in September. He was the No. 1 overall pick in the 2004 draft because he agreed to a $3.15 million bonus, after the Padres decided they didn't want to pay the asking price for college stars Stephen Drew, Jeff Niemann and Jered Weaver. They gave Bush nearly three full years to settle in at shortstop, but he hit just .221/.291/.276 and his defensive range went backward, the result of ankle and hamstring injuries and poor work habits. His arm strength never wavered--his arm rated a pure 80 on the 20-80 scouting scale in high school--and San Diego switched him to the mound last June. The conversion was an immediate success, with Bush flashing mid-90s velocity, an impressive slider and surprisingly good mechanics. In fact, he struck out 16 of the 29 Arizona League batters he faced, walking just two, prompting a promotion to low Class A in early August. One batter later, Bush's season was done. He twice hit 99 mph in that brief outing, but he also tore the ulnar collateral ligament in his elbow. Though he never has received high marks for his work ethic, Bush appeared to be motivated to pitch, lending optimism to the notion that he could be ready for instructional league in 2008.

You know the story by now: The Padres opted for Bush, the local high school two-way standout, with the No. 1 overall pick in the 2004 draft instead of going with more dynamic-- but also more expensive--college stars Stephen Drew, Jeff Niemann or Jered Weaver. They settled for Bush just three days before the draft because he agreed to a $3.15 million bonus. He's now three years into his pro career, but hasn't played above low Class A because of injuries and poor hitting. He broke his ankle during spring training last year and was hampered by hamstring injuries twice during the season and again during instructional league. Bush continues to show the outstanding arm that helped make him a consensus first-round talent, but his range, hands and foot speed are just slightly above average. He showed outstanding lateral movement as an amateur, but now needs to clean up his defensive footwork. Bush is a .221 hitter in 624 minor league at-bats and his hitting tools remain unrefined. Good health would help, but his swing path and strike-zone judgment need to be addressed. The Padres would like for him gain strength. At this stage, Bush projects as a utility infielder, but he won't reach even that modest ceiling if he doesn't rededicate himself to the game. He should finally get a taste of high Class A this season, but without rapid improvement, the Padres might be tempted to convert Bush's arm strength--he hit 95 mph in high school--to the mound.

The Padres narrowed their choices for the No. 1 overall pick in 2004 down to Stephen Drew, Jeff Niemann and Jered Weaver before settling on Drew. But three days before the draft, San Diego's upper management decided Drew wasn't worth his asking price--he eventually signed a $5.5 million major league contract with the Diamondbacks--leaving the scouting department scrambling for an alternative. That turned out to be Bush, a local twoway star and projected top-10 talent. Bush signed quickly for a $3.15 million bonus, but before he even took the field, he was suspended for his role in a fight outside an Arizona nightclub. Then he hit .192 in his pro debut. While he was on his best behavior in 2005, Bush never got going with the bat, collecting more than two hits in a game only once while recording just 18 extra-base hits. He made progress in instructional league after being drafted, but regressed into bad habits last year. He's a good contact hitter, but he tries too hard to pull pitches, doesn't work deep counts and then presses when he falls behind. Bush isn't without tools, however. He's a potential Gold Glove shortstop with plus range to both sides, an excellent double-play pivot and a powerful arm that ranks as a pure 80 on the 20-80 scouting scale. He hit 95 mph as a prep pitcher. Neither the Padres nor scouts have given up on Bush, who draws comparisons to a young Royce Clayton. That's not ideal for the first pick in a draft, and Bush may never live up to that status. The Padres will keep Bush's electric arm in the back of their minds, and he ultimately could end up back on the mound if his bat doesn't improve. He's ticketed for high Class A, where the hitter-friendly parks of the California League could help spur his career.

A local two-way star who went No. 1 overall in the 2004 draft when San Diego looked to save money, Bush had a rough introduction to pro ball. After signing for a club-record $3.15 million, he was suspended before playing a game for his part in a fight outside of an Arizona nightclub. After taking the field in July, he never found a rhythm at the plate or in the field as he dealt with a hamstring injury. Taking Bush with the first pick was a reach, but Bush was a consensus top 10 talent. The best defensive player in the draft, he has a cannon for an arm and plus range to both sides. Some scouts have concerns about his offensive ability, but the Padres believe he'll hit. They say he understands the strike zone and has surprising strength for his size. He's an average runner out of the box, and above-average once he gets going. Bush's performance at the plate in his debut didn't quiet his critics. He needs to focus on making contact and not worry about trying to be a power hitter. He can get out of control at times trying to make flashy plays, the main reason he committed 17 errors in 28 games. San Diego hopes Bush can see 2005 as a fresh start after he showed marked improvement both on and off the field during instructional league. He'll begin his first full season in low Class A.
Minor League Top Prospects
Bush was the No. 1 overall pick in this year's draft, but his career started poorly when he got in a bar fight on the eve of the season, was charged with three misdemeanors and was suspended for several weeks by the Padres. Things didn't get a lot better when he was reinstated. He was overmatched at the plate and battled a hamstring problem. His debut drew mixed reviews from managers, who expected to see a five-tool talent and didn't. "He didn't impress me that much, but he'll be OK," Escalera said, "His bat has a way to go. He swings too hard and he tries to lift the ball too much." Despite his hamstring problem, Bush was at his best in the field. He showed soft hands, good range and easily the best infield arm in the league. He played with a little too much flash, which led to careless errors, and tended to wait too long on balls as he tried to show off his arm strength.
Rated Best Infield Arm in the San Diego Padres in 2007
Rated Best Infield Arm in the Midwest League in 2006
Rated Best Infield Arm in the San Diego Padres in 2006
Rated Best Defensive Infielder in the San Diego Padres in 2006
Rated Best Infield Arm in the Midwest League in 2005
Rated Best Infield Arm in the San Diego Padres in 2005
Frisco RoughRiders activated RHP Matt Bush.

RHP Matt Bush assigned to Frisco RoughRiders.

Texas Rangers signed free agent RHP Matt Bush to a minor league contract.

Milwaukee Brewers released RHP Matt Bush.

Milwaukee Brewers designated RHP Matt Bush for assignment.

Milwaukee Brewers activated RHP Matt Bush from the 15-day injured list.

Milwaukee Brewers sent RHP Matt Bush on a rehab assignment to Nashville Sounds.

Milwaukee Brewers sent RHP Matt Bush on a rehab assignment to Nashville Sounds.

Milwaukee Brewers sent RHP Matt Bush on a rehab assignment to Nashville Sounds.

Milwaukee Brewers placed RHP Matt Bush on the 15-day injured list. Right rotator cuff tendinits.

Milwaukee Brewers activated RHP Matt Bush.